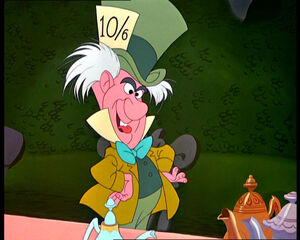 Mad Hatter is a character from the Disney movie Alice in Wonderland. He is best friends with the March Hare and first appears in the most famous scene in the entire film, the the mad tea party.
Alice first meets the Mad Hatter after the Cheshire Cat tells her to go to him for directions. Alice arrives during a very odd party that he is having with the March Hare and the Dormouse. He and the March Hare start to sing A Very Merry Unbirthday but are interrupted by Alice clapping. At first the two are upset that Alice came to their party uninvited but soon invite her when she tells them that she enjoyed their singing very much. As Alice tries to ask them for directions the Mad Hatter and March Hare keep changing the subject. Eventually the party is once again interrupted when the White Rabbit shows up. Alice tries to talk to him but he is chased away by the Mad Hatter and the March Hare.
Community content is available under
CC-BY-SA
unless otherwise noted.